Title is in and the car is for sale. $1200 or Best offer.
Weiner dog not included.
Located in Zip 28167 of NC
Pics of the Well rust and where the top link bracket is gone from the rear end housing.
Here is why it was being worked on to be painted.
And pics of the interior
And one more of the engine bay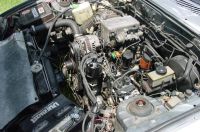 Parts for Sale Ebay Feedback Contact Information Pics from my junk yard